You see, I adore Arthur Rackham, I care deeply for Gustave Doré, I spent hours redrawing Aubrey Beardsley's illustrations. But there's one artist whose works I truly love. It's Jan Marcin Szancer.
You may not know him; it's easy not to – he's not very popular outside Poland. I'm not sure why. Anyway, as I decided to supply you with weekly posts about illustrators (book and otherwise), we're going to start with Szancer (if you're wondering, it's pronounced beginning with 'sh' sound, and like 'cancer' afterwards – well, not exactly, but it'll be acceptable). We're going to start with him, because he's the one known by every Polish person – even if they don't recognise the name or face (picture thanks to Kronika Wypadków Twórczych).
Szancer (1902-1973) was one of those people deserving the title of "Renaissance man" – he was an illustrator, writer, scenographer, professor at the Academy of the Fine Arts in Warsaw, first artistic director of the Telewizja Polska (Polish national TV broadcaster), photographer and theatre director. And he excelled in all of these roles. He is, anyway, known mostly because of his children's books illustrations.
If you ask any Polish person if they've ever seen this picture, you'll probably get a happy: "Oh, my parents used to read this book to me when I was little!"
It's a book of nursery rhymes, full of poems written by Jan Brzechwa, the most appreciated children's author, and a close friend of Szancer himself (there's a short poem written by Brzechwa about Szancer. It's titled "Leaky Shoes", but as I'm incapable of translating it, you'll have to just believe me). The poems are not what you'd expect of nursery rhymes; they don't only rhyme – they're hillarious and extremly well written. It's not easy to find them translated into English; Walter Whipple, who translated many Polish poems, is said to work on some of the Brzechwa, but nothing has been published so far. That leaves us with a couple of amateur translations; you can find them by googling "Brzechwa poems in English".
Anyway, back to Szancer. He's mostly known thanks to his ink sketches, with characteristic tall, slim figures and huge, expressive eyes. If you just imagined something manga-like, please go back. It's more like this: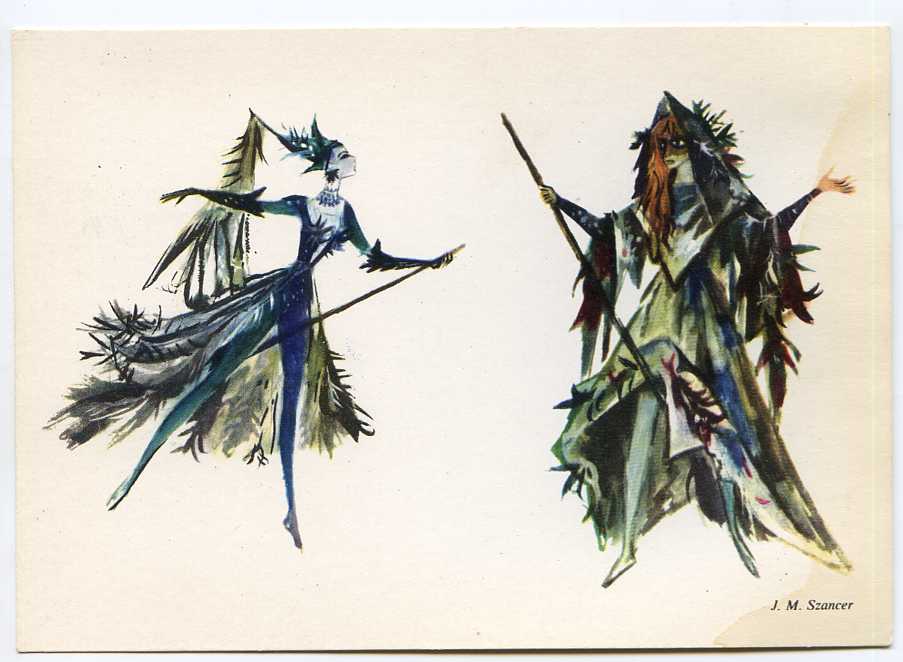 The picture above shows the costume designs for the witches from "Pan Twardowski" ballet. You can see the Szancerian flowiness, the delicate blending of shades, elegant, thin lines. But that's just a costume desing – you know, a sketch. The following illustrations were found on this wonderful blog "To dla pamięci" / "This for memory"; as it's written in Polish, I thought I share, but by all means, go and see all of the beautiful art there. Art is, by all means, an international language. (You may want to right-click the images and open them in a new tab. For some reason, my theme doesn't do bigger images.)
If you've recognised some of the stories, I'm not surprised: you've just seen the illustrations for "Snow White", "Cinderella", "Nutcracker", as well as "Satires" by Kraszewski and the story of "About the Dwarves and Mary the Orphan" (no, it's not the Polish retelling of "Snow White". It's an independent story, very sad and depressing. We're not an extremely cheerful nation.
In his life, Szancer illustrated over two hundreds books, including Andersen fables, stories of Mark Twain, Edith Nesbit, Carlo Collodi, and Jonathan Swift. Not all of them were children's books: you'll find his works in some editions of Polish national opus magnum, "Pan Tadeusz" by Adam Mickiewicz, and in "Trilogy" by Henryk Sienkiewicz.
However, my favourite are the illustrations created for Jan Brzechwa's series of "Pan Kleks" ("Mr. Inkspot") books, a wonderful stories about Mr. Ambroży Kleks, an inventor and educator, the headmaster of the most magical school you can imagine (hear that, Rowling! No, no, I'm sorry, I didn't mean that. I still love Hogwarts). It's not just a boys-only school, it's a boys-whose-names-start-with-the-letter-A-only school. They eat painted food, learn geography by playing football with an inflated globe, mend broken mirrors, interpret dreams, and discuss important matters with the characters from fairy tales. It's hilarious, well-written, and not exactly educational. But who cares, if you can read about stuff like this?
I love Szancer's illustrations deeply. He was the first illustrator I've learnt to recognise, the first to learn his name, to read his biography. Accidentally or not, he illustrated all of my favourite children's books, and showed me how the great art looks like. I'm pretty sure he's the reason I fell in love with reading, and reading, as you can see, is pretty much half of my life.
PS. Just to be clear: Jan Marcin Szancer also painted landscapes, portraits, acts, and designed the flyers for the Warsaw Uprising in 1944. But that's an entirely different story. I'll tell it some other day.